How schema markup can help you rank better
Schema is a semantic vocabulary of tags that you can add to your web pages to improve the way search engines read and represent your pages within the search results pages (SERPs).
Schema has been around for some time now. It was first introduced in 2011, yet it is still one of the most underused SEO tactics and one that can generate some really strong results for you or your clients.
What is Schema.org structured data?
According to Moz, "Schema.org is the result of collaboration between Google, Bing, Yandex, and Yahoo! to help you provide the information their search engines need to understand your content and provide the best search results possible at this time."
Schema helps to improve the way your page displays in the SERPs by enhancing the rich snippets that are displayed beneath the page title.
How does schema help with SEO?
Schema tells the search engines what your data means, not just what it says.
When your website is crawled by Google, the content on the pages it crawls are indexed and returned as search results. When you markup your content using schema, some of that content gets returned in a different way.
Improving the way your results appear in the SERPs can really help to improve your engagement metrics (mainly improving your click through rate (CTR) from the SERPs) which in turn can lead to positive SEO benefits.
Depending on the type of schema used, you can also claim a much bigger 'slice' of the SERP real estate by using the right kind of markup which will add value to your prospective customers, again helping to drive up your CTR and improve your overall rankings.
What are the different types of schema markup?
Schema markup is a great example of a user-focussed improvement and was set up as a collaboration between Google, Bing and Yahoo!.
Improving the way that businesses can present information to users in the SERPs allows users to gain the information they need quickly – from location information, to review scores to cost to availability – there are lots of great examples of how schema markup has transformed the way we engage with results in the SERPs.
Some of the most common examples of schema markup include:
Articles
Local businesses
Restaurants
TV episodes and ratings
Book reviews
Movies
Software applications
Events
Videos
Organisation
Person
Recipes
Products
FAQs
These are just some of the most common applications – there are literally hundreds of markup types so if you have any type of data on your website, there's a good chance you will be able to mark it up with itemscope or itemtype.
Schema markup examples
Here are some great examples of schema markup from the search results:
FAQs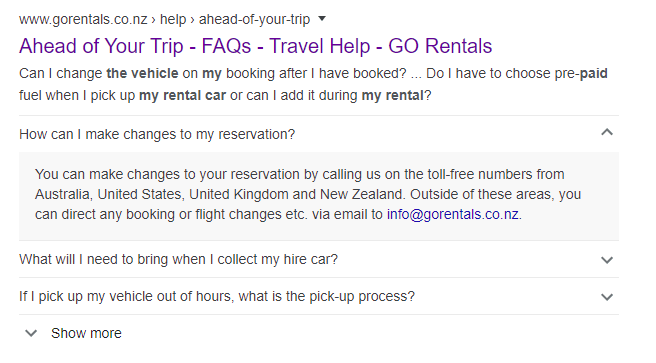 FAQ schema is a great way to provide valuable information to prospective customers directly in the SERPs. You can also utilise the answers within the FAQs to include links to other key areas of your website, providing an extra opportunity to drive relevant clicks to your website.
Note: there is a possibility that you will reduce the volume of traffic to your website if you choose to implement FAQ schema as users can find out information directly from the SERPs which they might usually click through to your website to find out so think carefully about how and where you use them across your site.
Movie Review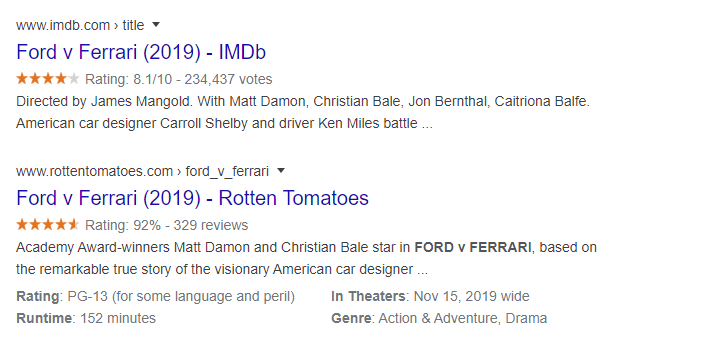 If you are looking to find out more about a movie you are planning on watching, simply Google the movie title and you can quickly scan all of the major review platforms, see the review score and the number of votes.
By using the relevant movie markup, sites can also appear in the knowledge panel for that movie: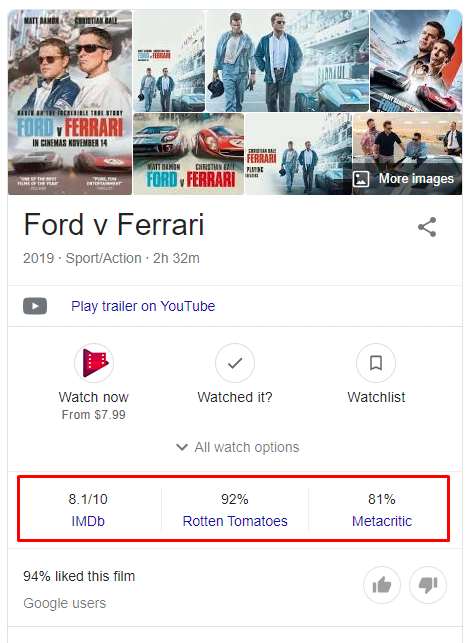 Events

If you promote events on your website, using the event markup can really help to improve your SERP real estate and provide people with a snapshot of the upcoming events.
Product

If you sell products on your website, you should be marking them up with all the key information that is likely to make people click through to find out more. There are three key areas to focus on:
Price
Availability
Review Score (and number of reviews)
You can also set up a specific field for any special offer price you have on the product and all of this information provides the user with a much greater level of detail directly from the SERP and is much more likely to lead to a click.
Recipe

You can see from the recipe snippet above that just from the result in the SERP, you can find out the cook time, number of calories and the review score for this particular recipe, all of which can really help when deciding which recipe to choose from.
You can also markup your recipes with instructional schema which is compatible with home assistant devices so if I was to say 'Hey Google, give me a Bolognese recipe' it could source recipes that are marked up with the relevant instructional schema and read this out to me without me having to touch my device – perfect for when you're cooking or baking.
How to generate your own schema markup
The beauty of schema markup is that you don't need to be a developer in order to generate the right type of markup for your content.
In fact, Google has made things super easy by providing a tool specifically for generating structured data markup on your existing content.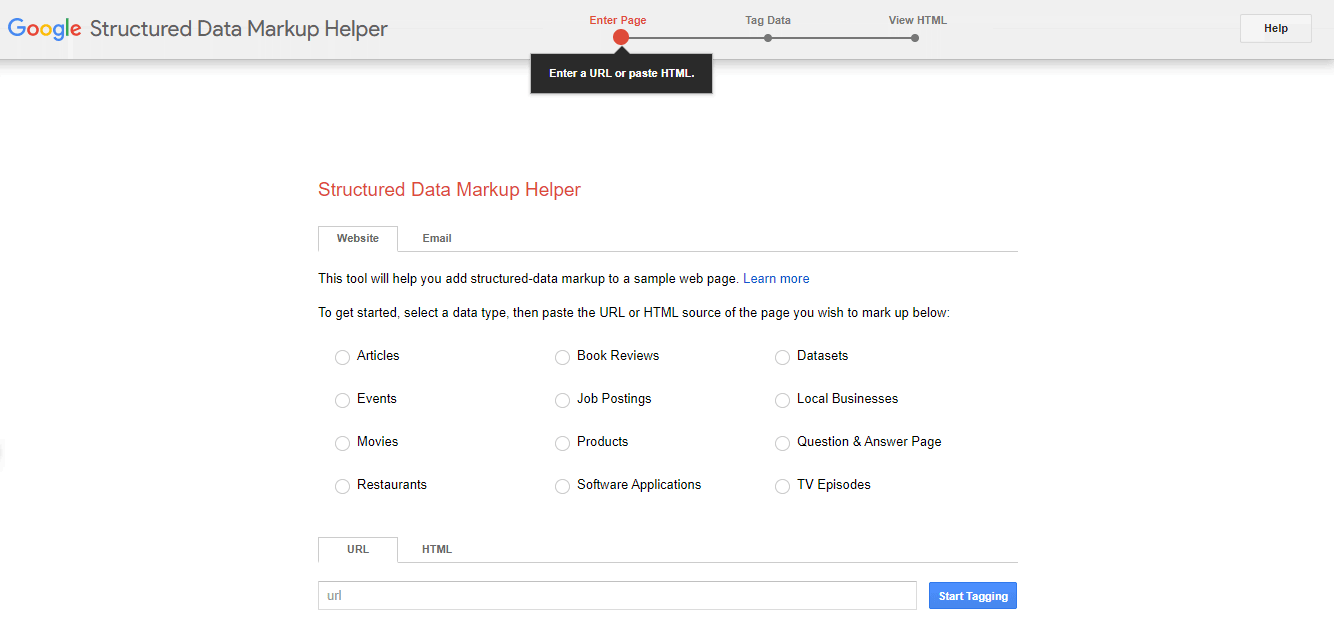 Simply head to this page and you can start right now!
Once you have selected your URL and the type of schema you want to add, simply walk through data items you want to add and generate the HTML – simple.
I noticed one of my favourite local restaurants don't currently have any Restaurant schema on their site so used them as an example below: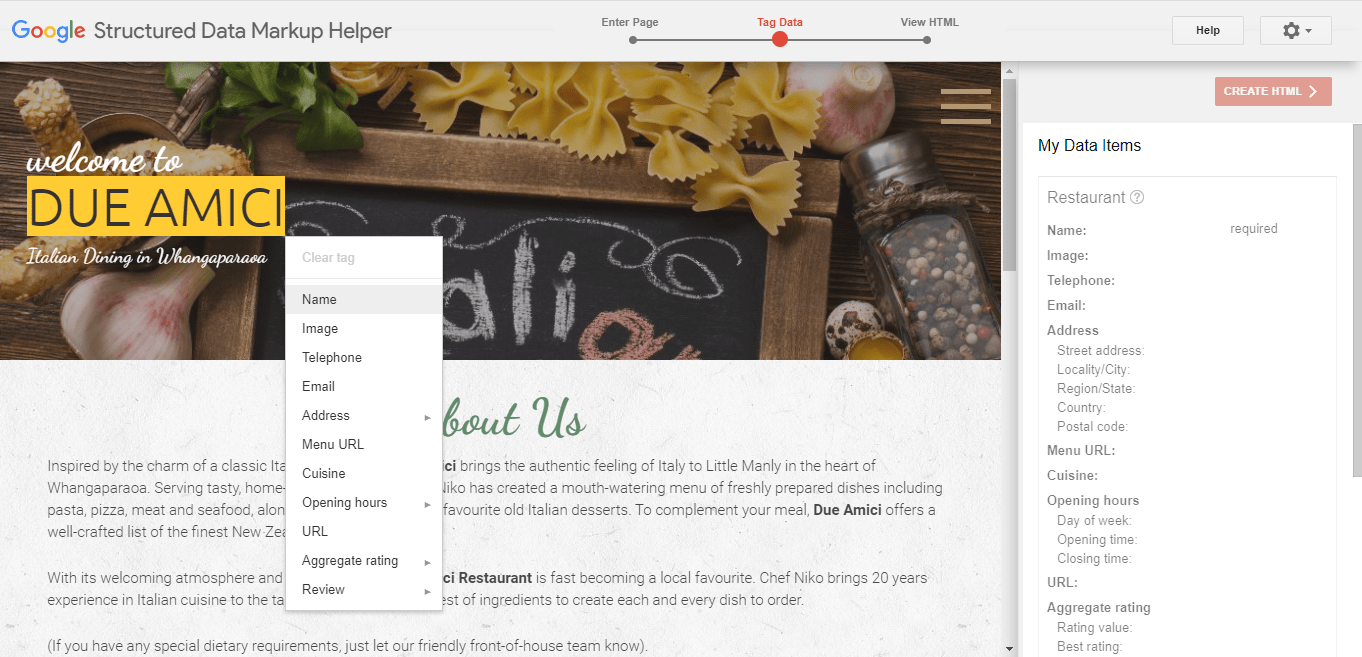 You can highlight information from the page or choose to manually add any missing tags and once you have completed as much of the information as you can, simply hit 'Create HTML' and you are sent the relevant markup which can then be added to the page.
Summary
Although there is no conclusive evidence to show that schema markup directly helps your rankings, there is a strong correlation between sites that have implemented schema markup on their pages and increased rankings so for us, it's a no brainer. Simple to implement, schema can really transform the way your pages are displayed in the search results, incentivising more people to click through and discover your business.