Makita
Makita is one of the world's most recognised power tool companies and Makita NZ is a subsidiary of the Makita Corporation based in Japan. Despite being at the leading edge of the power tool industry, Makita NZ had no presence on any social platform when we met with them in October 2015 but they were keen to engage with their customers through Facebook so approached Digital Hothouse to see how we could help.
Building a fan base
Whilst Makita is one of the world's leading power tool companies, they don't sell any products themselves. Everything is sold through authorised dealers in stores like Bunnings and Mitre 10. This meant that our focus was slightly different to e-commerce companies whose goal is to drive traffic to the website that converts. Our goal was to take Makita's loyal following of customers from the offline to the online space and we decided that Facebook was the best platform to do this.
Identifying the audience
We made it clear from the start that our goal would be to focus on engagement. Yes we wanted to build a big following, however we wanted to ensure that the people following the account were genuinely interested in Makita Power Tools. We identified two separate audiences that we felt would fit this profile: New Zealand tradies and DIY enthusiasts. Makita offer a range of entry level power tools which are perfect for DIY and home improvements right through to professional power tools that are ideal for tradies.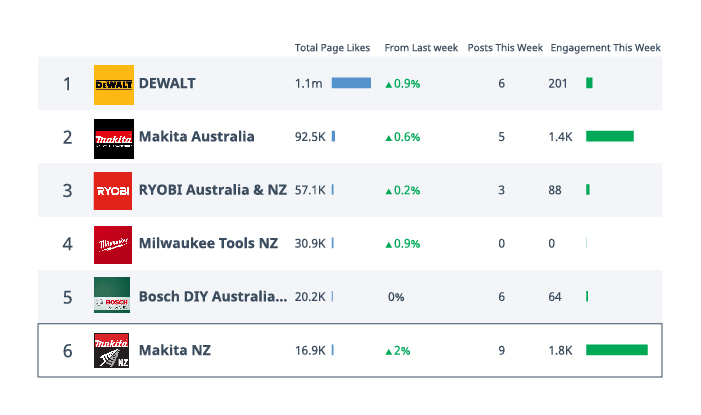 The launch
Following extensive research into the market, looking closely at Makita's main competitors, we knew we needed to launch the Facebook page with a bang. The launch of the page coincided with a recent sponsorship agreement between Makita and Superblack V8 racing team where Makita were sponsoring the car for a race in New Zealand at Pukekohe. This was the perfect platform for the launch of the page as we were able to offer a prize of 10 x 2 tickets for the race to people who followed the page and entered the competition. We identified that there was a big cross over between V8 Supercar fans and tradies which meant we were able to attract the right kind of audience from day one.
Differentiating the Makita Facebook page
One thing we were keen to do was to provide something different to the competition. We looked at the leading Facebook pages for the competitors and noted that all of them were focussing on pushing out products. This was the only content on their pages and we knew that this was not what we wanted for Makita. Instead we created a content strategy that focussed on a mix of content including:
Relevant news articles for both tradies and DIY enthusiasts
Humorous posts showing common mistakes out on work sites
Product videos
Competitions
Product posts
4 % Average monthly engagement
The results
The results we have achieved in the last 12 months have been nothing short of remarkable:
Facebook fan growth: 0-15,000 in 10 months
Average monthly posts: 18
Total organic reach: 701,983
Total photo views: 15,704
Total video views: 22,734